The Limitations of Content Aware Fill
The new Adobe Photoshop CS5 is out there, complete with its seemingly magical
Content Aware Fill functionality
.
I was pretty excited to get my mitts on it... but as is often the case with effective advertising, the
miraculous demos
have been carefully crafted to play to the strengths of "Content Aware Fill". Note how they focus on images with
large, regular landscapes
, and removing objects from them. Indeed, the new Photoshop excels at erasing things from pictures.
[Each of these images represents what I accomplished with one quick pass using Content Aware Fill. Literally just a matter of seconds.]
Andrew Wyeth's "Christina's World" is beautiful and haunting and evocative,
perhaps
, but wouldn't it be better without that woman and those houses in the background...?
CONTENT AWARE FILL!
Street artist
Banksy
has surely done some gorgeous, thought-provoking work... but isn't it REALLY just glorified vandalism...?
CONTENT AWARE FILL!
SPOILER ALERT
if you haven't seen Truffaut's
The 400 Blows
(I realize that some of you don't like to see a movie during its first weekend, preferring instead to see it on its 2,652nd weekend) but it ends on this iconic shot of this boy wading into the ocean. But did we really need the boy in the shot...?
CONTENT AWARE FILL!!!
(Part of the functionality requires that you yell this out each time you use it, FYI.)
Again, these images feature large spaces. There are some complex patterns but there's a lot of the pattern for the program to draw upon. And we're removing relatively small things from the images.
What happens when the images are more complex with less patterns and more structural architecture to fill in? Perhaps it's predictable...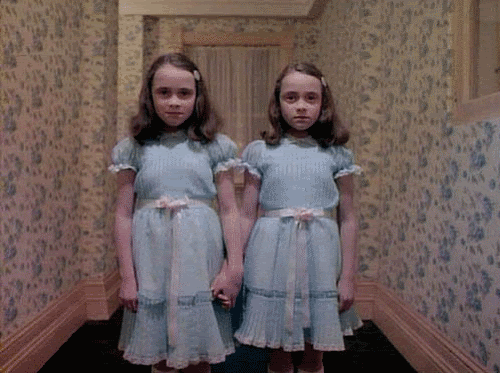 Content Aware Fill bugs the fuck out.
In this example, you'd think that maybe the patterned wallpaper would be right up C.A.F.'s alley, but we are gouging out a large portion of the image and asking the program to extrapolate something far more complex: carpet and walls and a door frame that is largely blocked by the twin girls. You can certainly erase those girls using a number of other methods (like therapy), but C.A.F. isn't the best tool for this job.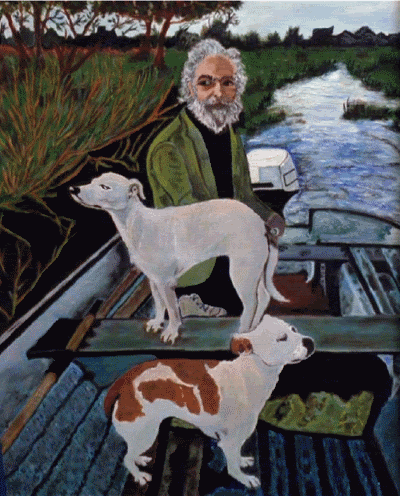 In this example, one dog goes one way, the other dog goes the other way, and this guy's sayin, "Why do I need these dogs in this boat with me?"
Well, Guy With A Nice Head of White Hair, I tried to help you out using a little C.A.F. but it was a little too complex. This one represents a few extra passes with C.A.F. and spot-fixing, and it's better than I might've imagined, but obviously too complicated. The program's built to reconstruct patterns, not rebuild anatomy.
Guess we'll have to wait for Adobe Photoshop CS6...
Labels: Content Aware Fill, CS5